Award State Apprentice Competition of the Varnisher 2022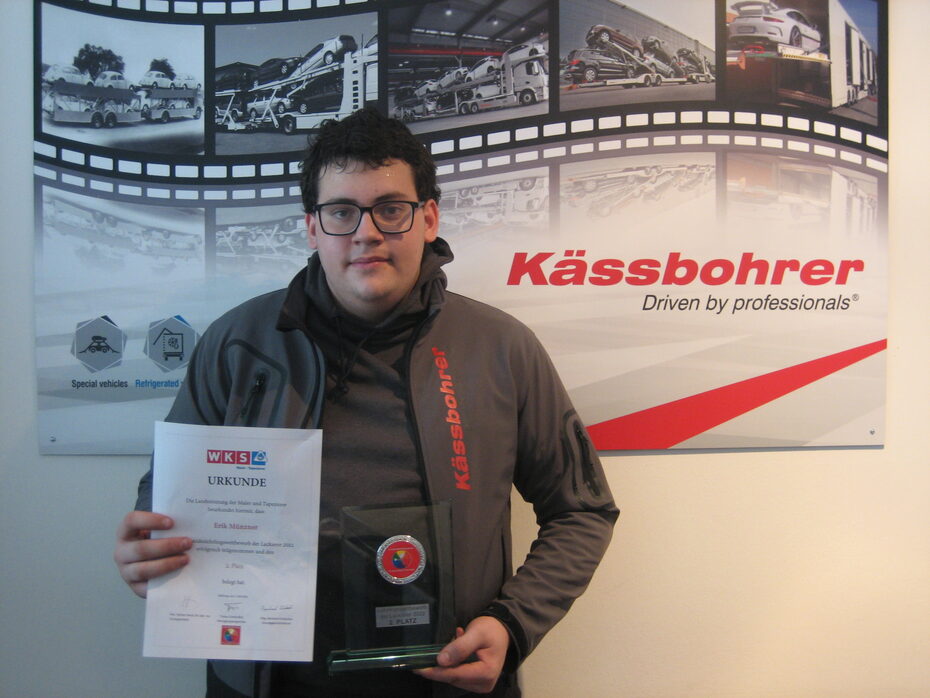 We congratulate Mr. Erik Münzner for the second place at this year's regional apprentice competition of the varnisher. The regional apprentice competition is organized by the Chamber of Commerce.
We are very proud of Mr. Erik Münzer and wish him all the best for his successful career as a varnisher at Kässbohrer.
What does a varnisher technician actually do?
Varnisher technicians treat surfaces for decorative purposes or to protect them from external influences. The tools they use are spray equipment, brushes, stencils and other tools and aids. The main work techniques include priming, painting, spraying, sanding, dipping and flooding.
Tasks:
Prepare surfaces for painting, e.g., by filling, sanding, priming.
Mixing the coating materials (varnishes)
Apply paints to metal, wood or plastic products using application equipment (paint gun)
Control the quality of the work
Skills:
Manual dexterity
Sense for colors
Insensitivity to odors
The apprenticeship varnisher technician* is only one of five different apprenticeships offered at Kässbohrer. Our apprenticeship programs range from metal technicians* to electrical technicians*. The exact descriptions and which skills are required for this can be found on our homepage https://www.kaessbohrer.at/en/career/apprenticeship as well as in our new apprenticeship folder.
For further questions about our apprenticeships or our taster days, please contact
Wolfgang Peischl
Kässbohrer Transport Technik GmbH
+43 664 80281813