Enhancement of the "special vehicles" division and additional areas for vehicle handover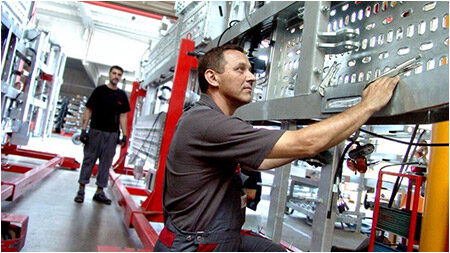 For several years now Kässbohrer has intensified product development and has restructured the enterprise divisions, integrating additional products and services. Along with Kässbohrer's tradition and family commitment, the company is increasing the fields of "special vehicles" and "tailored customer solutions" besides the core products for vehicle transport.
The foundation of affiliated company ROHR Spezialfahrzeuge GmbH, located in Straubing (Germany) and the combined know how will further intensify our product development.
Additional areas are being erected at the Eugendorf headquarters, to provide more assembly space for the box body vehicle transporter, and a new weather-proof hall for vehicle handover.
These developments support the restructuring of Kässbohrer's divisions and strengthen our position as an important and attractive regional employer.