Green Logistics – applied practices instead of theoretical planning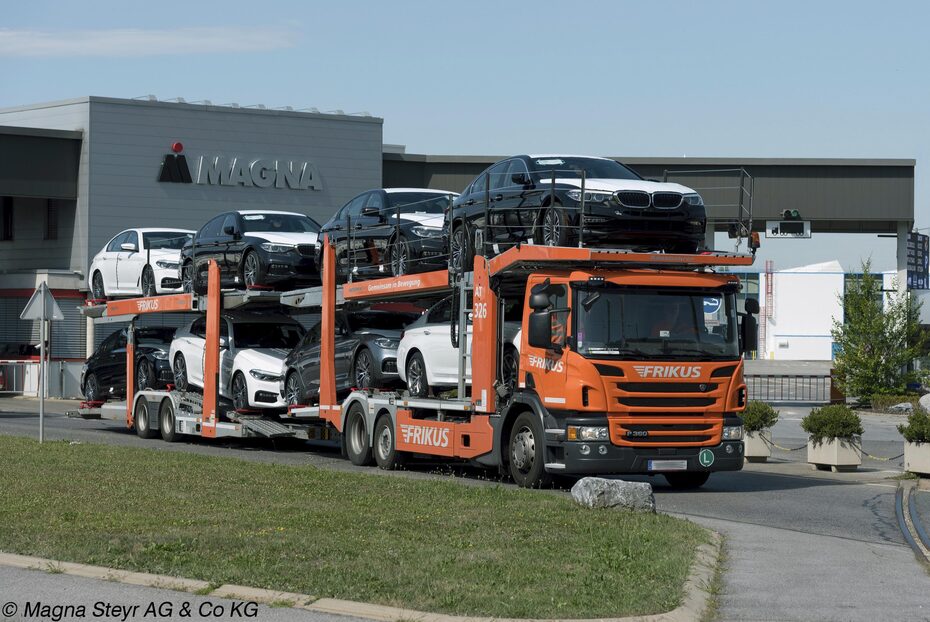 Frikus & Kässbohrer successfully implement an ecological shuttle concept for their customers Magna and BMW
While many others still keep discussing future-oriented, highly ecologic concepts for logistics, Magna Graz has applied new standards for sustainable factory and transport logistics with their "smart factory"concept. This concept understands logistics as an integral system, ranging from parts supply and stock management, including all quality, assembly and value creation processes, until the transport of finished premium vehicles – like the new "5" model series from BMW. According to W. Michael Druml, Global Director of Supply Chain Management at Magna Steyr, the key to efficient processes and logistics is the best possible combination of modern technological potentials and of practical benefits: "Getting faster, producing at reduced costs and with higher efficiency, and offering higher quality – this is the philosophy and the target of our smart factories."
Designing value added processes in a sustainable style also means understanding the system structures and the environmental interdependencies, and to integrate them into the logistic processes. Concerning the delivery of new vehicles, the Styrian transport company Frikus, has taken over this task for the manufacturer Magna and has put the specifications of customer BMW into operation, together with car carrier supplier Kässbohrer, by incorporating economic and ecologic processes: instead of using conventional car carriers for internal shuttle transporting, newly developed superstructures are being used – they include an additional electro-hydraulic power source for almost emission-free loading operation at the Magna factory. Instead of using expensive lithium-ion accumulators or AGM batteries, the electric operation of the vehicle's hydraulic system is powered by conventional wet batteries, reloaded by the truck's electric generator while driving. This system only produces and consumes energy when it is actually required. The truck's engine remains off while loading and unloading. Turning the truck's engine on and off for applying the hydraulic system like during conventional operation is no longer necessary. About 1,500 watt hours are produced during one cycle. Efficient logistic systems not only require the reduction of emissions and avoiding of noise by a noise-reducing superstructure design and an agglomeration of the transport capacity – especially concerning the field of Finished Vehicle Logistics.
"When an optimum load factor is desired for transporting large-size passenger vehicles, Kässbohrer is an important partner for us for maxing out the technically available options. Every additional vehicle loaded on the car carrier provides additional economy, and at the same time represents an important contribution to ecology and sustainability of public traffic", as Roland Amtmann, CEO of Frikus points out. Transporting all vehicles produced for the customer sustainably and efficiently from A to B will remain an essential key factor at Magna in Graz, when it comes to implement the future innovation and growth strategy together with leading vehicle manufacturers.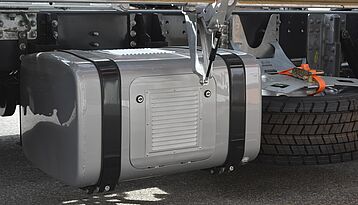 Battery unit installed at the truck, 3D drawing of the battery unit
Copyright of the illustrations:
Illustration Frikus & BMW: © Magna Steyr AG & Co KG
© Kässbohrer Transport Technik GmbH
Short portrait of Magna Steyr AG & Co KG
Magna Steyr is a worldwide leading, brand-independent partner of the automobile industry for development and manufacturing. Offering highly flexible development and manufacturing strategies, Magna Steyr offers solutions for a wide range of supplies and services to the OEM's: Extending from systems and modules up to complete vehicles, offering flexible solutions for tailored or large-quantity manufacturing.
Short portrait of Frikus Transportlogistik GmbH
FRIKUS had been founded in 1928 as a transport company, and has been taken over by the LAGERMAX Group in 2012. Today the company operates independently as a supplier for logistics and transport solutions for domestic and international customers. They can also use the network of the LAGERMAX Group to achieve the best possible synergies to the benefit of the customers and of the environment. The combination of competence in logistics and of a large fleet of vehicle transporters makes FRIKUS the specialist for developing and performing individual logistic solutions.
Kässbohrer contacts:
Kässbohrer Transport Technik GmbH
Markus Guggenbichler, Project Director
Nicole Lettner, Marketing Director; Tel. +43/6643021031, E-Mail: nicole.lettner@kaessbohrer.at