Individually tailored solutions for vehicle transporters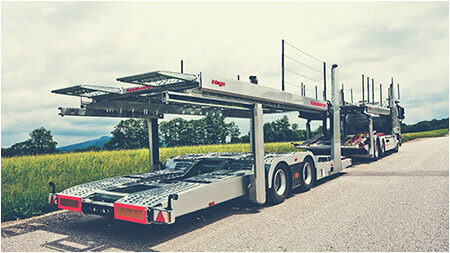 Kässbohrer's box-body semitrailers have for many years been an unbeatable solution for the safe transport of highly exclusive vehicles. A brand new hydraulic tailgate lifting system facilitates loading and unloading the upper platform of the successful box body semitrailer ecotrans. This feature is especially interesting for special purposes like race car transport. Kässbohrer offers customized, highly-economic logistic solutions for transporting vehicles together with required extra equipment, like using skeleton containers. All hydraulic functions can also be controlled from a reliable wireless remote control unit, which provides easier and safer loading processes and increases the safety of the driver and of the load at the same time.
The field of box-body vehicle transport experiences increasing demands and applications. This is why Kässbohrer extends their range of solutions, and in addition to the well-proven ecotrans semitrailer the customer may also order truck solutions or truck and trailer solutions with individual box-body design – development, construction and manufacturing out of one hand. For more information, you are invited to contact Kässbohrer's "Tailored Solutions" department; Stefan Meixner and Markus Guggenbichler will answer your questions.