Kässbohrer develops new productline High & Heavy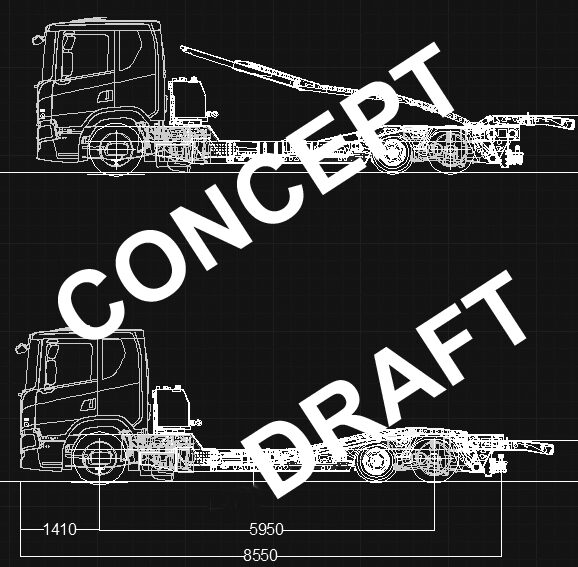 Increasing networking of tasks in the field of vehicle logistics requires tailor-made transport solutions. With the "High & Heavy" product line, Kässbohrer wants to take this development into account and round off the Kässbohrer product portfolio with a truck transporter in the future.

The new High & Heavy product line combines modern features with technical know-how in the proven Kässbohrer style. For example, while an innovative rear table and a radio control system for hydraulic functions are used on the motor vehicle, a revolving console within the stage area and long ramps are planned among other things on the three-axle trailer.

The first pilot vehicles will have their practical use on the road by the middle of this year. The start of production is scheduled for end of 2020/beginning of 2021, with a semi-trailer planned later. If you are interested in trial loads, an appointment can be arranged for the months of July, August and September 2019.

If you would like to know more about our new product line, please contact Mr Markus Guggenbichler and Mr Krzysztof Kucharewicz for detailed information.
Kässbohrer desarrolla nueva línea de productos High & Heavy
El aumento de la red de tareas en el campo de la logística de vehículos requiere soluciones de transporte a medida. Con la línea de productos "High & Heavy", Kässbohrer quiere tomar en cuenta este desarrollo y completar la cartera de productos de Kässbohrer con un camión transportador en el futuro.
La nueva línea de productos High & Heavy combina características modernas con conocimientos técnicos en el probado estilo Kässbohrer. Por ejemplo, mientras que en el vehículo de remolque se usan una mesa trasera innovadora y un sistema de control de radio para las funciones hidráulicas, se planifican en el remolque de tres ejes, entre otras cosas, una consola giratoria dentro del área del escenario y largas rampas.
Los primeros vehículos piloto tendrán su uso práctico en la carretera a mediados de este año. El inicio de serie está programado para fines de 2020/principios de 2021, con un semirremolque planificado para más adelante. Si está interesado en cargas de prueba, se puede concertar una cita para los meses de julio, agosto y septiembre de 2019.
Si desea saber más sobre nuestra nueva línea de productos, el Sr. Markus Guggenbichler y el Sr. Krzysztof Kucharewicz están a su disposición para recibir información detallada.
Kässbohrer rozwija nową linię produktów High & Heavy
Zwiększanie zakresu zadań w dziedzinie logistyki pojazdów wymaga rozwiązań transportowych dostosowanych do indywidualnych potrzeb. Dzięki linii produktów "High & Heavy", Kässbohrer chce uwzględnić ten rozwój i uzupełnić w przyszłości portfolio produktów Kässbohrer o transporter ciężarówek.Nowa linia produktów High & Heavy łączy nowoczesne funkcje z technicznym know-how w sprawdzonym stylu Kässbohrera.
Na przykład, w pojeździe ciągnącym zastosowane będą, innowacyjny rodzaj tylnego pomostu załadunkowego i system sterowania radiowego dla funkcji hydraulicznych, a w trzyosiowej przyczepie,między innymi regulowana platforma unoszona w obrębie pokładu przyczepy i wydłużone rampy najazdowe.
Pierwsze pojazdy pilotażowe przejdą swoje testy praktycznego zastosowania w ruchu drogowym w połowie tego roku.Rozpoczęcie produkcji seryjnej zaplanowane jest na koniec 2020 /początek 2021,przy czym pózniej planowana jest jeszcze także naczepa dla tego typu transportów.W przypadku zainteresowany załadunkami próbnymi, istnieje możliwość umówienia terminu na lipiec, sierpień i wrzesień 2019 roku.
Jeśli chcecie Państwo dowiedzieć się więcej o naszej nowej linii produktów, prosimy o kontakt z Panem Markusem Guggenbichlerem lub Panem Krzysztofem Kucharewiczem w celu uzyskania szczegółowych informacji.
Contact details Kässbohrer:
Kässbohrer Transport Technik GmbH
Markus Guggenbichler, markus.guggenbichler@kaessbohrer.at