Kässbohrer develops the world's first TRIPLEX vehicle transporter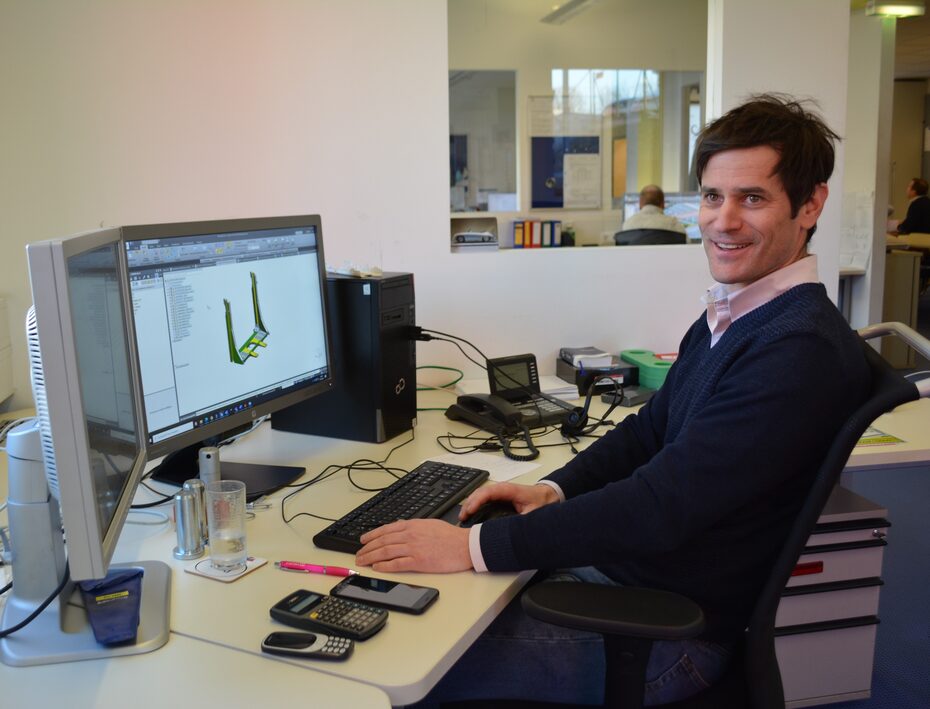 For the transport of vehicles, specific vehicle transporters are usually used, which are suitable for either cars or trucks, for example. The company Kässbohrer Transport Technik GmbH, based in Eugendorf near Salzburg, is in the process of rewriting the previously applicable system boundaries. For some time now, in close cooperation with an international logistics company and a well-known truck manufacturer, a completely new vehicle transporter concept has been developed that can transport everything in one - namely cars, trucks and buses!
"The idea was born out of a technical spin. We were looking for an innovative and also ecologically sustainable solution to a decades-old problem. With Kässbohrer as a special vehicle manufacturer, we have now found an industrial solution that is suitable for series production," says the person in charge of the Scandinavian-based logistics group. "Until now, our transport flows for heavy vehicles such as trucks or bus chassis were independent and separate from our transport flows for passenger cars. This resulted in correspondingly high transport costs, but also environmental costs. Previous attempts to combine the different loads failed because the load factor was too low and because of unsolved technical problems."
With their experience and passion for innovative solutions, the development engineers at Kässbohrer have now succeeded in both. Namely, to design a vehicle that, on the one hand, meets extreme technical requirements in terms of strength and payload. On the other hand, it also offers the necessary economic efficiency, in that not only heavy vehicles can be loaded optimally, but in future pure car transports can also be carried out with maximum loading factor. "We have achieved this through several innovations", as Horst Fößl, head of the technology department at Kässbohrer, explains: "The decisive factor for success here is certainly that we redefined the system limits of the vehicle transporter in this project from the very beginning - starting with a maximum possible length of the vehicle transporter as a so-called 'Eco-Combi' with a total towing length of 25.25m (instead of the usual 18.75m), to a significantly increased permissible total weight of more than 60t due to a completely new connection unit in this vehicle concept, to innovative technical solutions in very demanding kinematics, for example in the area of lifting and platform technology for such complex working machines. The finished Kässbohrer product then also consists of three individual vehicles: a motor vehicle body, a two-axle and twin-tyred dolly vehicle and a completely newly developed semi-trailer with three hybrid axles. A particular technical challenge in the design work was to make the second level of the vehicle transporter, namely the hydraulically adjustable lifting platform on the semi-trailer, as flexible as possible. Almost like a product chameleon, the platform can be shifted and shortened to a minimum when transporting trucks and then extended again to the maximum loading length when transporting cars. In addition to these technical features, we want to provide vehicle logistics and their drivers with a high-quality product that is as easy to use as possible.
Before the innovation from Salzburg will be on the roads, initially mainly in Scandinavia, there are still a few project tasks to be completed. One of them is the so-called bad road test at the Magna test site in Sankt Valentin, where a prototype vehicle is put through its paces, so to speak, under maximum manoeuvres and loads. "These tests are also important for our product life cycle calculations. After all, we want to supply the international truck & car industry not only with particularly innovative, but above all with particularly economical and sustainable vehicle transporters," says Dr. Markus Guggenbichler, who is responsible for the project as a whole at Kässbohrer.
Accordingly, the motivation is high both in Eugendorf and among the cooperation partners to prove the advantages of the new Kässbohrer vehicle in practice in the foreseeable future. Mixed loads, which can be carried out with the TRIPLEX vehicle transporter, save resources on the outward and return journeys. Since each transport relation can be carried out individually and differently loaded, fewer empty kilometres are generated. Every truck and car that can be transported more economically and ecologically is a gain. Accordingly, in this example of cooperation, the transport of battery-electric vehicles as loads and, in a further step, the operation of the vehicle transporter by CO2-free towing vehicles were also included in the concept right from the start.
In this way, Kässbohrer contributes to more environmentally friendly transport logistics. Ecology taken a step further includes CO2-free painting as well as a large-scale photovoltaic system with which Kässbohrer can generate most of its own electricity for production. In addition to pilot projects already implemented in the field of zero-emission solutions, such as the successful construction of the world's first fully electric vehicle transporter in cooperation with a Swiss partner in 2022, the Kässbohrer team sees sustainability as a holistic process. Thus, attention is not only paid to economy and ecology in the development of new products. In the sense of improved recycling management, Kässbohrer offers, for example, complete refurbishments of existing vehicles with manufacturer quality as a so-called "Extra Life Package" - in this case, the vehicle is brought up to the latest technical standards and in compliance with the German Road Traffic Act (StVO) and is generally refurbished in a resource-saving manner. This refurbishment in Kässbohrer's own workshops enables the vehicle logistics specialists to use their vehicle beyond the service life of the truck chassis for a "further product life" - one of the future topics at Kässbohrer in Eugendorf.
About Kässbohrer:
Kässbohrer is the leading European manufacturer of vehicle transporters. The traditional company, which is still majority-owned by the founding family, produces high-quality car transporters and special vehicles at its site in Eugendorf near Salzburg and can look back on a vehicle manufacturing history of over 130 years. The company is characterised by the high innovative strength, special performance and cost-effectiveness of its products. The product range includes vehicle transporters in open and closed versions, but also special vehicles, for example for racing or the high & heavy sector. In partnership with Vega International, also based in Salzburg, Kässbohrer also develops and produces solutions for intermodal logistics. Kässbohrer stands for quality and reliability.
Contact and more information about the 'Triplex vehicle transporter' project and about sustainability at Kässbohrer:
Dr. Markus Guggenbichler
Kässbohrer Transport Technik GmbH
+43 6225 28100-0
Markus.Guggenbichler@kaessbohrer.at