Kässbohrer is building the world's first BEV car transporter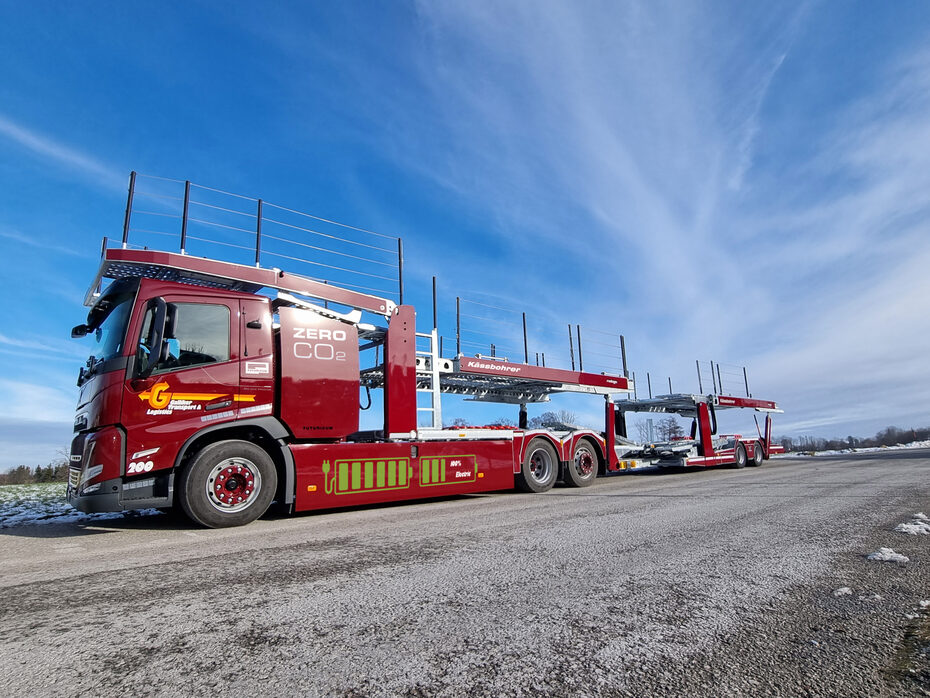 Kässbohrer is building the world's first BEV (battery electric vehicle) car transporter articulated train - developed from a joint project with the lead of the companies Galliker Transport AG and Designwerk Technologies AG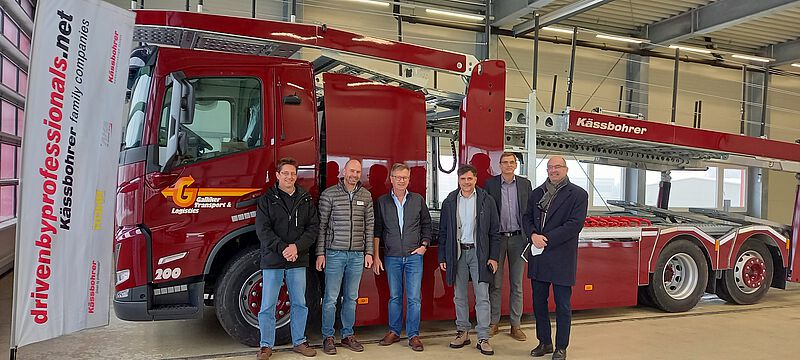 The world's first all-electric car transporter is a reality and will soon be on the road in zero-emission vehicle distribution logistics in Switzerland under the flag of Galliker Transport AG!
The electrified truck, with a battery capacity of 900 kWh and 500 KW (680 HP) drive power, is an innovative achievement of the young technology company "Designwerk Technologies AG" based in Winterthur, Switzerland. In vehicle transport, both the drive and the operation of the Kässbohrer superstructure, including the lifting systems for loading and unloading the passenger cars, are electric. This is the first pilot project in the world in the field of very special and challenging so-called Finished Vehicle Logistics with a full-size car transporter.
Full Size & Full Speed
The project was first presented to the professional world in autumn 2021, only a few months later the innovative vehicle has already left the Kässbohrer premises in Salzburg and is now being registered for practical use - with a higher permissible total weight and an extended motor vehicle. The storage capacity of the electric truck consists of four 225 kWh lithium-ion batteries - in comparison, an average electric passenger car has a capacity of 40 to 60 kWh net energy content. The car transporter is designed for a driving range of up to 300 miles. Ing. Horst Fößl, Head of Development at Kässbohrer, comments: "New technologies are increasingly influencing the entire commercial vehicle sector at a rapid pace. In the recent past we have already put bodies with battery-powered functional systems on the road, a purely electrically powered truck including an electrically powered superstructure is an absolute novelty and a next big step."
The performance of the newly developed car transporter and, of course, of the batteries and recuperation is now being tested in 100% logistical real-life operation over a longer period of time. This will provide valuable experience, which in turn will be incorporated into further developments.
And above all, thanks to the initiative of the Galliker company, as a leading logistics company with a special focus on green logistics, practical action is being taken here instead of just theoretical talk about zero emissions: "The requirements and applications in vehicle transport are becoming increasingly diverse. In developing special solutions, we have often proven that we are a reliable sparring and development partner for industry and logistics. Efficient, economically and ecologically sustainable vehicle transport will be the decisive key criterion more than ever in the future." according to CEO Günther Percht and Sales Director Markus Guggenbichler from Kässbohrer.
Informationen on this project and contact:
Dr. Markus Guggenbichler
Kässbohrer Transport Technik GmbH
+43 6225 28100-0
Markus.Guggenbichler@kaessbohrer.at
www.drivenbyprofessionals.net