Series launch Capitan – the wait was worth it!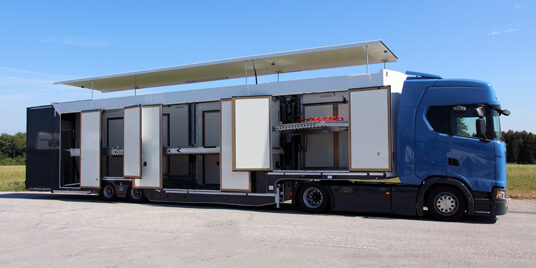 After a year of testing the Capitan has proven its road capability and will start in 2019 as production model
Kässbohrer has expanded its product portfolio in the field of closed vehicle transporters with the "Capitan". With the introduction of the Capitan, Kässbohrer responds to changing market requirements and meets the increased customer needs because the new product generation in the field of closed semi-trailers results in significant load factor advantages, especially in the segment of large SUV models.

The new Capitan scores with innovative technology. The maximum load volume is realized by dividing the upper loading level into two independently hydraulically adjustable lifting platforms, whereby the wide and long trough fields facilitate the optimal transport of broader vehicles. The newly developed crossing platform with continuous trough fields can be lowered completely in the low bed and be infinitely positioned. Furthermore, there is a hydraulically adjustable lifting rail in the front area of the chassis which significantly optimizes the load factor. During loading and unloading the entire roof area can be raised by 850 mm from its basic position to achieve a higher load factor on SUV models.

The Capitan with twin unit is a perfect addition to the Ecotrans in the well-known three-axle version. Thus, with both product lines a wide range of applications in the field of closed vehicles is given. Due to the high flexibility of the Capitan, a safe transport of prototypes and exhibition vehicles as well as vintage cars can be guaranteed. The start of series production of the new Capitan will take place in the second half of 2019 and can be ordered from now on in additon to the Ecotrans.

Get more information about the Capitan on the product information page or simply contact our Mr Markus Guggenbichler.