World's first all-electric Scania P25 with a Kässbohrer body and trailer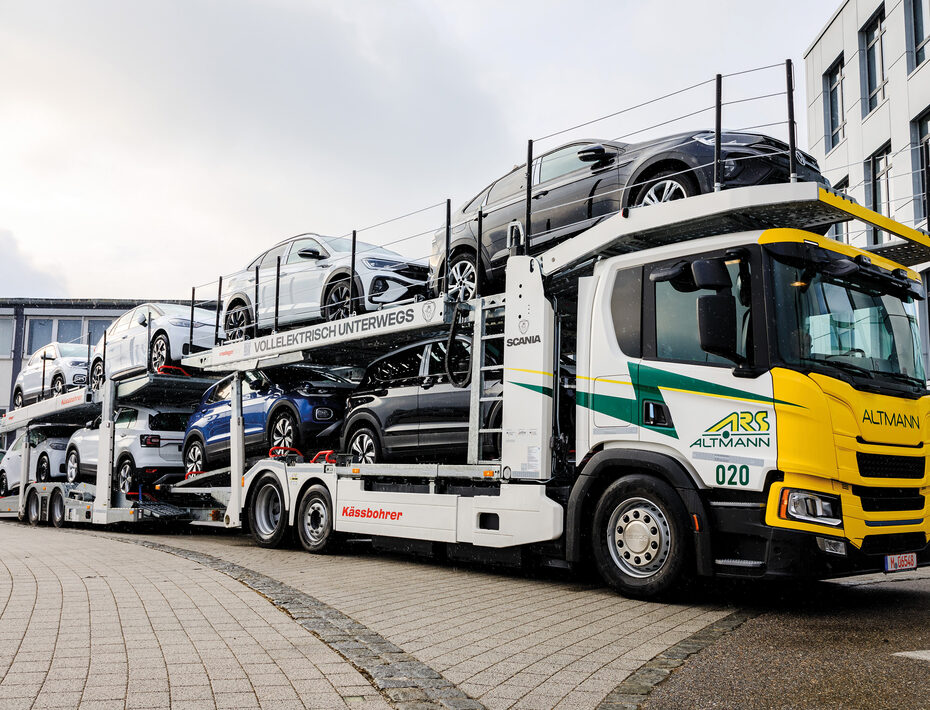 The motor vehicle body model Metago, type M4, has been designed for everyday practical use by Kässbohrer and adapted to the requirements of an e-truck. "The Metago M4 body model chosen for priority distribution transport is characterised by particularly simple, safe and fast loading and unloading of the passenger cars. Due to the lower body weight with this model, it was also possible to implement an effective payload of well over 8 tonnes on the motor vehicle," Ing. Horst Fössl and Dr. Markus Guggenbichler, the project managers at Kässbohrer, explain the details. Thanks to a very compact battery arrangement on the one hand and the integration of the electric power take-off within the chassis frame on the other, it was possible to achieve the low frame height that is particularly important for vehicle transporters. Innovations in the electrical system of the electrohydraulic Kässbohrer trailer model Intago type tt enable optimised operation through the electric power take-off (E-PTO) and thus minimum energy consumption of the hydraulic system. The body and trailer achieve a total payload of over 19,700 kilograms.
"This truck can transport up to eight cars, and without being overlong or overheight. With a maximum total towing weight of 42 tonnes, the electric Scania is fully charged in less than 90 minutes at a maximum of 130 kW (CCS 2)," says Thiemo Freyer, Product Manager Electromobility at Scania, explaining the advantages.
The additional weight of the electric drive train has no effect on the application. They are completely compensated for by the absence of the combustion engine. The fully integrated leading axle installed ex works has its own brake circuit. This in turn has a positive effect on tyre wear. Another special feature is the axle pressure of the leading axle, which can be read by the driver at any time on the display.
Contact and more information about the project at Kässbohrer:
Dr. Markus Guggenbichler
Kässbohrer Transport Technik GmbH
+43 6225 28100-0
Markus.Guggenbichler@kaessbohrer.at
You can find more information about Scania under: